It is nearly 6 months since we lost Steve, it is now time to celebrate his footballing life.
I am delighted that nearly 40 club members will be joined by Vicky , Steve wife, and 25 of Steve' family & friends for a fun packed afternoon.
The Arrangements
Please arrive at the 3G pitch by 12.30 latest.
We will set up 3 pitches to league standards (more hands make light work).
I will do an introduction to the afternoon at 13.00pm, we will start playing at 13.20 /13.30pm.
There are 6 teams , including a family team – The Stevie G'.
We will play 6 aside , with teams having a rolling sub(s).
It will be a round robin competition , with each team playing 5 x 15min matches (no half times).
There will be 3 pts for a win, 1 pt. for a draw, the team with the most points wins , if it is tied on points , goal difference , then goals scored, will decide it.
Teams are playing for the Steve George Memorial Trophy , there will be medals for the winners and runners up.
We will be refereeing the games ourselves, as there is a WFA referee training day taking place on the 24th.
The bar will be open at the club from 3.30pm please come along
The Stevie G' will be playing in appropriate footwear / shinpads, but I have got special dispensation from the council for the rest of Steve' family and friends to wear normal footwear on the 3G pitch.
The Teams
I am pleased to share the following teams, as you will see Colin Haydon, Steve' close friend, will be player / manager for the Stevie G'.

If there are any further club members who wish to play, just let me know and I will allocate you to a team – the more the merrier.
The Playing Schedule
I have attached the Playing Schedule for the tournament (thank you Terry).
I am grateful to John Green and Geoff Stockley who have volunteered to manage administration for the afternoon.
General
This will be an afternoon of celebration , fun and the game that Steve loved.
Bob has produced a programme for the afternoon (well done Bob), I have attached a pdf copy, we will also be handing out a printed copy on the day.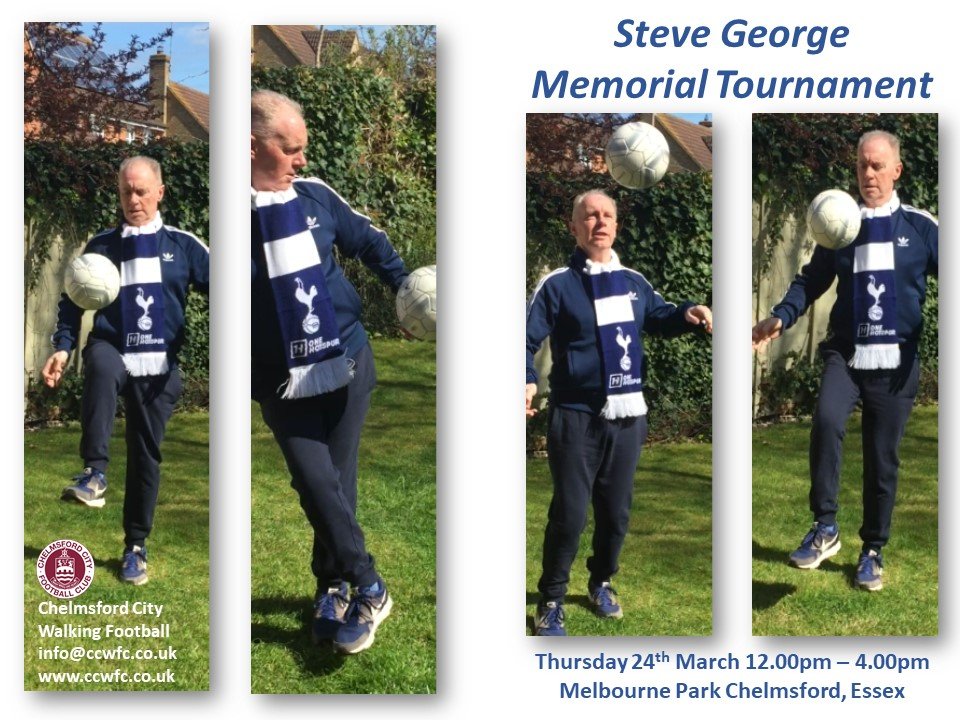 I am also arranging for the main club to report on the afternoon in CCFC communications.
I look forward to seeing you all there and us giving Vicky (and her family and friends) a very warm club welcome.
Best wishes
Chris
Chairman
CCWFC