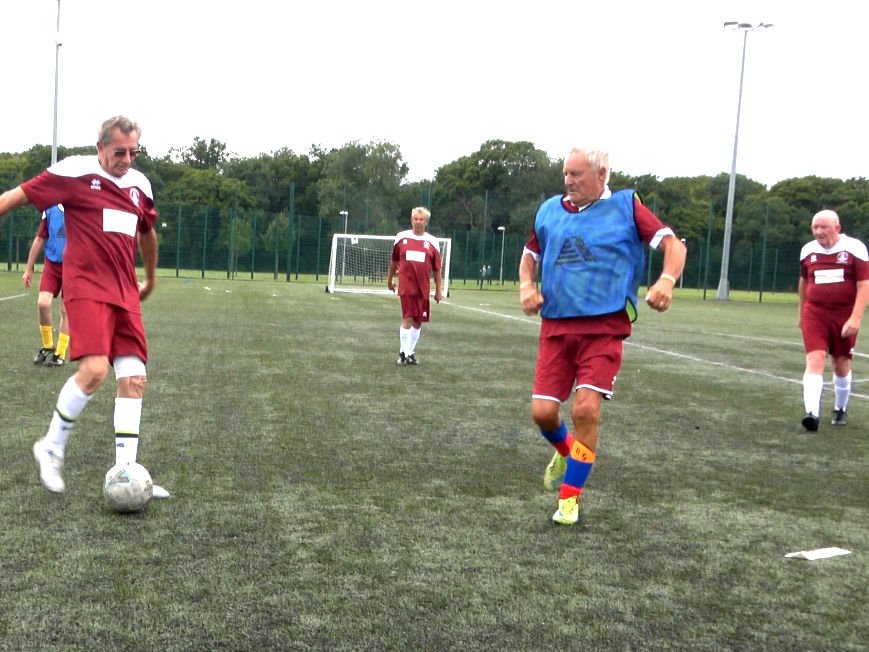 As you know the CCWFC committee is focused on recruiting more 50 and early 60-year olds to the club. This is about ensuring the longer-term future of the CCWFC. We are also passionate about honouring our most senior members – 32 of our 77 club members are over 70.
Last week, we run our first o70' tournament , celebrating the passion and skill of players who have been kicking a ball ,in some cases, (on and off) for over 65 years.
Billericay, Southend and Leyton Orient , joined 2 Chelmsford teams to contest the o70' tournament cup. It was a round robin competition , so each team played 4 x 20 min games. The video highlights are covered in a video, sorry our camera man can't been in three places at once.
The afternoon was about friendship and having fun, with a bit of a competitive edge. Leyton Orient ran out worthy winners with 3 wins and a draw , so won the cup and the gold medals.
Southend were runners up and grabbed the silver medals. The Chelmsford teams and Billericay put in some good performances and all got bronze medals.
The feedback from the visiting teams was that it was a fantastic afternoon, with Billericay offering to host the next one! I think we have found a great format for o70' 'competition' and the opportunity to run 2-3 tournaments a year.
Of course, these things don't happen by themselves , so a few thank you' .
Thank you to Gary for organising the guest teams , the referees and the cup /medals.
Ray R and Tony E did great jobs managing the Chelmsford teams and Ray B made sure that the scores got kept – thank you.
Thanks to Bob for all of the photos and video work.
It was also great seeing supporters Peter Orford, Dennis and Smudger and a flying visit from CCFC Chairman, Steve Shore. Finally, well done to all the CCWFC players !!