says Thank you Terry!
Footie chums,
I hope that you are all staying well.
You will have received an e mail from Terry today announcing that he is stepping down as club chairman.
I think it is appropriate for us to take a moment to reflect on Terry' contribution to walking football and our club.
In June 2012 Terry saw BBC's Mike Bushell's Saturday morning clip demonstrating walking football.
He immediately went on-line and found that a test session was starting at his local park the following August.
It was initiated by Chelmsford City Council for people 50 years or older and was being run by a City councillor. Terry was at the first game having just turned 60 years of age.
The lads continued in the park, but they struggled to get enough players. Folks held on and in 2013 they moved to the Chelmsford sports and leisure centre where they played indoors.
The group did not take off properly until August 2014 following the Barclays Bank advert sharing the new sport of walking football. Suddenly 'the club' had 25+ players.
Terry and the boys played in some competitions and did quite well. They played in the Walking Football United (WFU) national tournament, where they were Essex champions for 2014.
To be honest they were the only team in Essex at the time!
The lads played Wimbledon and Folkestone in the South East play-off and came second. You will all recognise 7 of the lads below (some real fresh faces –what happened!!).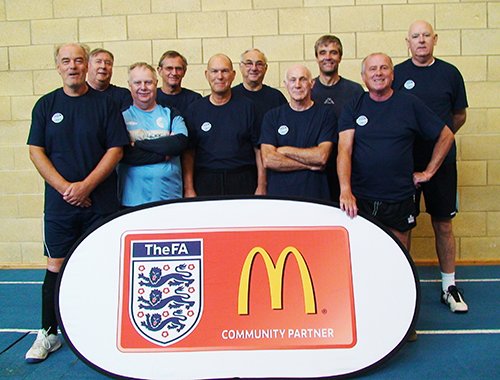 In 2015 the club became sponsored by Chelmsford City FC and were given a set of the previous year's reserve team shirts, a blue and white kit with red socks, 'walking football' got added to the badge and Chelmsford City WFC had a public identity.
The kit was worn with pride. In 2015 the club became Essex champions again, this time fair and square by winning the county group in WFU national tournament, playing against 4 other teams from the county.
The club then got a proper set of first team claret shirts and you will see below a photo of the team being presented with them by the Chelmsford City FC director of football Russ Frazer.
The lads played an exhibition match on the City pitch and got thrashed by the young supporter's team for City's summer open day. Hey ho, some things don't change (I bet they were running!).
There are some very dodgy characters below, but clearly a huge amount of pride.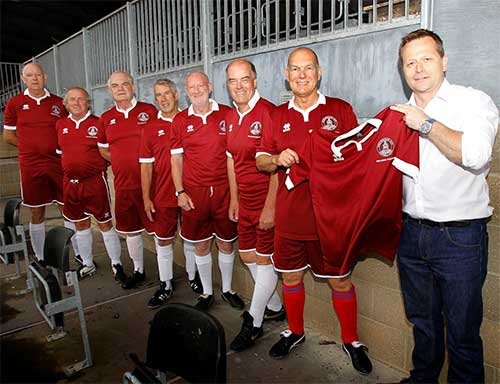 Terry was also a committee member on the WFU group for 'Walking Football United' across the country.
Terry was then invited by Steve Rich, Chair of the WFU, to the Barclays All Stars Walking Football event in August 2015 at the White Hart Lane training ground, where he played in an exhibition match.
See below for the 'All Stars' list – they dished out a bit of a lesson in walking football (although some bloke called Kane, was undoubtedly running!) – what more than Terry !!!!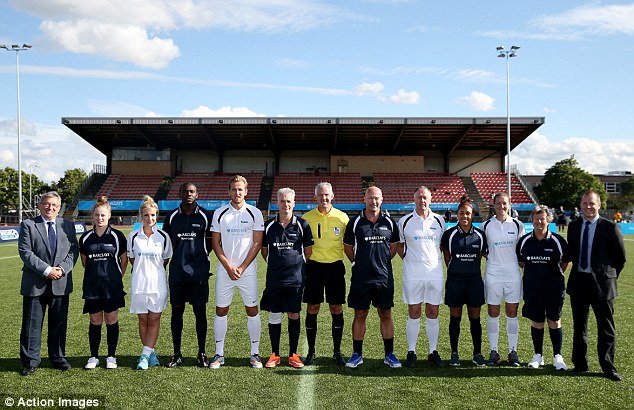 With Graham Taylor (manager) (From left to right) Sylvia Gore, Helen Skelton, Fabrice Muamba, Harry Kane, Steve Rich, Chris Foy, Alan Shearer, Sir Geoff Hurst, Alex Scott and Casey Stoney pose before kick-off.
In 2019 Terry led out the o65' in the national finals of the WFA Cup, sadly the team didn't win, but it was an immensely proud day for the club (see below)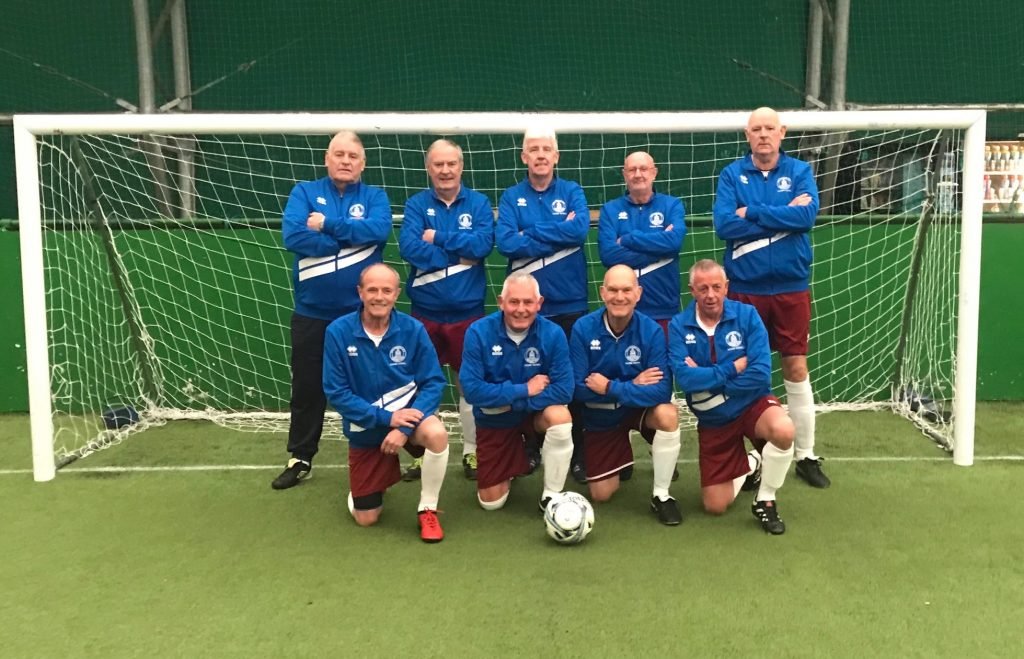 The game has come a very long way in the last 4 years and Terry has been at the heart of developing the game both at Chelmsford and across Essex.
Terry is a founder member of the club and clearly not only has a passion for playing the game but also for developing the club for the benefit of everyone.
Terry has put hours and hours of his personal time into the club so that others might enjoy playing the game.
We would like to say a huge thank you to Terry for all of his efforts as chairman of the club and we are delighted that Terry will remain an active member of the committee (as treasurer) and continue playing at CCWFC.
On a personal note, I am very proud to take over as chairman and will drop you a separate note in due course.
Today is Terry' day and we thank you for everything that you have done for us all!
Best wishes
Chris
On behalf of the CCWFC Committee