Footie chums,
It's great that we are back kicking a ball.
This will be the last 'weekly newsflash' of this kind , I think they have served their purpose.
There will continue to be 'newsflashes', but they will now be periodic, topical updates.
In this last newsflash I reflect on how we have done as a club during lockdown.
There is a light-hearted look at our return to training, plus the usual 'you gotta laugh'.
There is also a bumper 30 question footie quiz and a last opportunity to book a seat at House Party 4 -the finale.
Enjoy the read!
Chris' Corner
Well my good friends we are emerging out of lock down, step by step.
We have gone from locking ourselves in the toilet and kissing our bottoms good bye to jumping into someone' bubble , queuing for 4 hours to get a cheeseburger and returning huge quantities of excess toilet paper to the supermarket!!
There is no room for complacency though, you sense that the pesky virus could still bite us on the bum ( or lungs or wherever it lands!!).
We are ,however, sufficiently out of the woods to mothball this weekly catch up in favour of actually catching up!!
We have had 15 weeks of keeping in touch as a bunch of clubmates and keeping the club functioning. It has been a great club effort.
We will have had 4 House Parties , with fantastic contributions from Bill H doing his monologues ; Spence bringing us the Coronavirus Boogie and a host of stand -up comedy (notably the northern comedian!).
Big Ollie weighed in with some stand -up comedy and the higher /lower game and Mike H is bringing us the ' unusual places you have kicked a ball' in the House Party finale.
Bob has guided folks to get connected to the House Party' and run a number of items like the 'best holiday I ever had' and the up and coming 'saucy postcard caption competition'.
We've had bingo and lots of you contributed to the fav LP/CD; TV comedy as well as the 'person you would most like to invite into the house'.
In between time, Bob has run the 'keepie uppie video competition' and the superstar video series , with great contributions from Bill H, Smudge. Spence and Bill S.
Along the way folks have been quietly keeping the banter going on the CCWFC FB page – notably Jim P , Smudge and Bill H et al.
We have also had 'player profile' contributions from Mike H, Ray, John G , Mark and myself.
This is all the stuff that is visible!!
Behind the scenes the 'committee' has continued to meet on a monthly basis (virtually of course), taking care of some of the domestic issues.
Peter has worked hard on a new club constitution ( to be shared shortly) and Terry has taken the reigns as Chairman of the Essex Walking Football League.
I have had numerous exchanges with folks , sometimes prompted by me, sometimes by them, where we just touch base on how things are.
I know lots of folks have kept in touch with each other, with a text here or a call there.
Then when the light started to appear at the end of the tunnel (and we were sure it wasn't a train coming the other way!), we tested out getting back to training and Bill S picked up the challenge of designing some routines.
Peter & Terry have put hard work into the logistics of scheduling the groups for training.
So why have I said all this?
Because it isn't commonplace. There are many clubs / groups that have drifted and fragmented.
It is a credit to who we are, that we have pitched in, in our different ways, and kept a sense of togetherness.
It is easy to laugh and have a bit of banter at training in calm waters , it is something else to stick together when the chips are down.
A big thank you to everyone who has played a part in keeping the wheels turning.
On a final note, I wouldn't want to be our first league opponents (whenever that is), our team spirit will be worth at least a couple of goals a game!!
See you back at training!
Back to training – first steps
Well we got through the first week of training very smoothly.
We had 3 groups of 6 with staggered start times on Tues; an o70' group on Wed; and 2 groups of 6 on Thurs. Approaching 30 people participated.
As you can imagine we ( Peter & Terry) are working very hard to get the scheduling done.
We are also picking up one or two folks who have fallen outside Pitchero , so that we make sure everyone gets a fair crack.
Without sounding like the headmaster, can I ask that if you are booked to a session and can't make it (stuff happens) that you let Peter, Terry or me know.
The groups exercises are predicated on 6 , it is unhelpful if we are suddenly faced with 5 or 4. Thank you.
So ………. what were the first sessions like?
Folks overwhelmingly reported that it was great to reconnect , chat and have a bit of banter. The shot in the arm that we all need.
There was good feedback on the exercises, folks felt they are pitched about right as a starting point. We will keep this under review and modify as we go.
Here are a few pics from Tues (sorry I don't have any for Wed /Thurs) .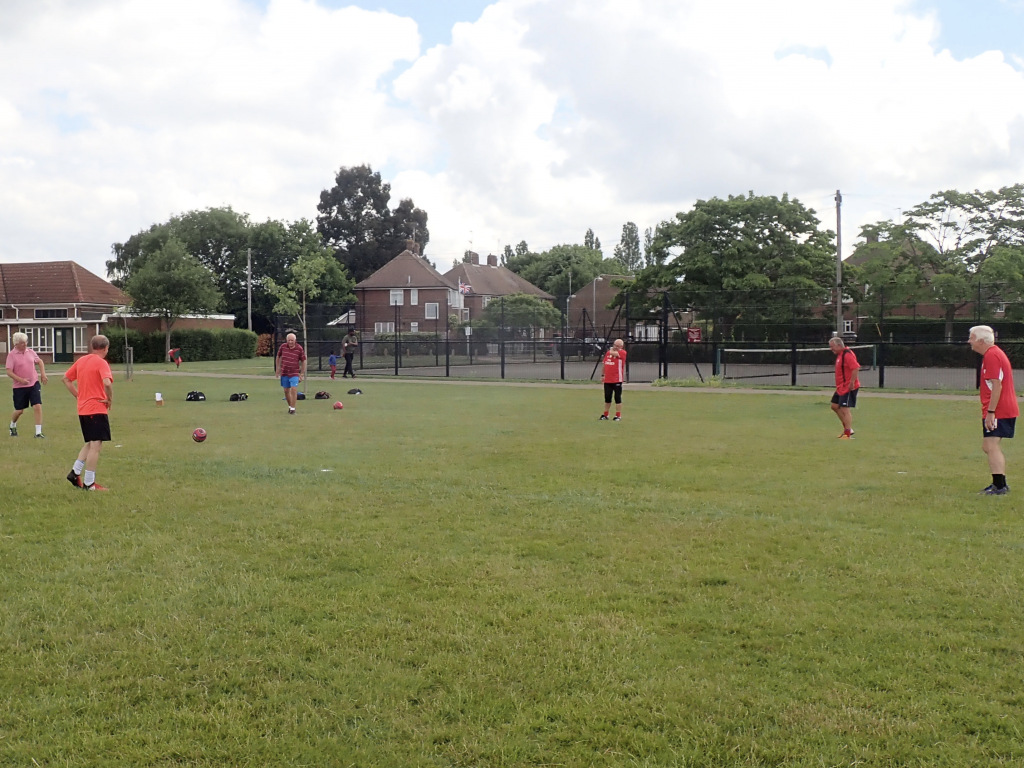 The whites looked like they were running an open air book club; the blues looked like a cycle club convention; and the reds had formed a circle …nothing else, just formed a circle.
For the full glory, you have to watch Bob' video. https://www.youtube.com/watch?v=1CiQlOcgR8Y&feature=youtu.be&fbclid=IwAR0H4UDr6MdBGpiwq3BQjqgP-HBpR4zK_2c7d5EaKVabjHQaWuZwQkmR5ug
The grass is indeed growing , very, very slowly, but we have to start somewhere.
It's humorous to think that we were concerned that we didn't look publicly conspicuous in our energetic activity. In reality, two ladies called the police and reported a care home outing that had been abandoned by the carers!!!
I know many of you have registered for this coming week and will have now received an e mail from Peter confirming your slot.
So let's do it all again this week!!
House Party 4 –
Friday 26th June 19.00 -21.00
Well , we are already to go with House Party 4 the finale
We have a fun packed evening lined up , including
A bumper quiz – Chris
The piranha brothers – Bill H
Stand – up comedy – Spence – The northern comedian Part 2
Best holiday locations – part 2
The saucy postcard caption competition – Bob
Unusual places you have kicked a ball – Mike H
The higher / lower game – Chris
We have 25 folks booked in at the moment, it you want to give it a try just contact me or Bob.
See you in 'the house'!!
You Gotta Laugh
A load of one – liners
My wife told me to stop impersonating a flamingo. I had to put my foot down.
I failed math so many times at school, I can't even count.
I was wondering why the frisbee kept getting bigger and bigger, but then it hit me.
My father has schizophrenia, but he's good people.
The problem with kleptomaniacs is that they always take things literally.
I can't believe I got fired from the calendar factory. All I did was take a day off.
Most people are shocked when they find out how bad I am as an electrician.
My wife just found out I replaced our bed with a trampoline. She hit the ceiling!
I was addicted to the hokey pokey, but then I turned myself around.
My therapist says I have a preoccupation for revenge. We'll see about that.
Today a man knocked on my door and asked for a small donation toward the local swimming pool. I gave him a glass of water.
A recent study has found that women who carry a little extra weight live longer than the men who mention it.
Last night my girlfriend was complaining that I never listen to her… or something like that.
Just got fired from my job as a set designer. I left without making a scene.
The world champion tongue twister got arrested. I hear they're going to give him a tough sentence.
Donald Trump was visiting a primary school in Orlando and visited a 4th grade class.
They were in the middle of a discussion related to words and their meanings.
The teacher asked Mr.Trump if he would like to lead the discussion on the word 'tragedy.'
So the President asked the class for an example of a 'tragedy'.
One little boy stood up and offered: "If my best friend, who lives on a farm, is playing in the field and a tractor runs him over and kills him, that would be a tragedy."
"No," said Trump, "that would be an accident."
A little girl raised her hand: "If a school bus carrying 50 children drove off a cliff, killing everyone, that would be a tragedy."
"I'm afraid not," explained Trump. "That's what we would call a great loss."
The room went silent. No other child volunteered. Trump searched the room.
"Isn't there someone here who can give me an example of a tragedy?"
Finally at the back of the room, Little Johnny raised his hand. The teacher held her breath.
In a quiet voice he said: "If the plane carrying you was struck by a 'friendly fire' missile and blown to smithereens that would be a tragedy."
"Fantastic!" exclaimed Trump, "That's right. And can you tell me why that would be a tragedy?"
"Well," says Johnny, "It has to be a tragedy, because it sure as hell wouldn't be a great loss… and you can bet your sweet ass it wouldn't be an accident either!"
The teacher left the room..
A lawyer married a woman who had previously divorced 10 husbands.
On their wedding night, she told her new husband, "Please be gentle, I'm still a virgin." "What?" said the puzzled groom. "How can that be if you've been married 10 times?"
"Well, Husband #1 was a sales representative. He kept telling me how great it was going to be. Husband #2 was in software services. He was never really sure how it was supposed to function, but he said he'd look into it and get back to me.
Husband #3 was from field services. He said everything checked out diagnostically, but he just couldn't get the system up. Husband #4 was in telemarketing. Even though he knew he had the order, he didn't know when he would be able to deliver.
Husband #5 was an engineer. He understood the basic process, but wanted three years to research, implement, and design a new state-of-the-art method. Husband #6 was from finance and administration. He thought he knew how, but he wasn't sure whether it was his job or not.
Husband #7 was in marketing. Although he had a nice product, he was never sure how to position it. Husband #8 was a psychologist. All he ever did was talk about it.
Husband #9 was a gynaecologist. All he did was look at it. Husband #10 was a stamp collector. All he ever did was… God! I miss him!
But now that I've married you, I'm really excited!" "Good," said the new husband, "but, why?" "You're a lawyer. This time I know I'm going to get screwed!"
____________________________________________________________
Remember physio Sam – a reminder
Just to let you know that Sam is back up for business.
He officially re open for business on the 4th July, but he will do consultations for existing clients or walking footie folks from 15/6
If you need him, he is on 07587 054854
November Quiz night
I have 68 tickets 'sold', if you want tickets and haven't booked them, let me know.
As a reminder, the details are:
Spencer P' big quiz night; 6th Nov 7-30 -11.00; Chelmsford City clubhouse; fish & chip supper; charity raffle; £10 a ticket; pre -form a team of 6 or make one up on the night.
Bumper Footie Quiz
1: Which club was top of League Two when play stopped in March?
2: The lowest Premier League attendance was 10,020 at Bournemouth – but who were the opposition?
3: Who are the top scoring team in the Premier League?
4: Which four teams had qualified for the Champions League quarter-finals?
5: Which club was expelled from League One in August 2019?
6: Who was the Championship top scorer?
7: Against which two teams did Liverpool drop points in the Premier League?
8: Who did Aston Villa beat in the EFL Cup semi-final?
9: Who were the only League One side to reach the FA Cup last 16?
10: Which club is currently bottom of the Championship?
11: Which team plays home matches at Roots Hall?
12: What's the highest ground above sea level in England's top four divisions?
13: Which eight grounds were used at Euro 96?
14: Who are the most northerly, southerly, westerly and easterly clubs in England's top four divisions?
15: Where do Gillingham play their home games?
16: Which Premier League club's ground hosted its first game in 2011?
17: In which city would you find the 49,000-capacity La Bombonera stadium?
18: Who played their first home league game at Anfield in September 1888?
19: Name the top five clubs in England based on all-time average league attendance
20: Which team plays home matches at Brunton Park?
21: Who was top scorer in the first Premier League season (1992/93)?
22: Which player has made the most Premier League appearances?
23: Four players have made more than 100 Premier League assists – who are they?
24: Who has kept the most Premier League clean sheets?
25: Who is the highest all-time Premier League top scorer never to have won the title?
26: Which six clubs have been promoted to the Premier League on four occasions?
27: The highest scoring Premier League match is Portsmouth's 7-4 win over which club in 2007?
28: Who is the most used sub in Premier League history?
29: Which three players have picked up the most Premier League red cards (eight)?
30: Who drew 5-5 with Manchester United in May 2013?
—————————————————————————————————————————————
Well folks that's it for the 'lockdown' weekly newsflash.
I hope that the bit of weekly fun and provocation has been a helpful distraction and kept you feeling connected.
There are a few tickets available for the Nov 6th quiz, again let me know your requirements if you haven't got tickets yet.
We will now return to occasional newsflashes , where I will bring you topical updates.
Best wishes
Chris ?
Footie quiz answers
1: Crewe Alexandra
2: Burnley
3: Manchester City (68 goals in 28 games)
4: Atalanta, Atletico Madrid, Paris St Germain, RB Leipzig
5: Bury
6: Aleksandar Mitrović (Fulham, 22 goals)
7: Man Utd (drew 1-1) and Watford (lost 3-0)
8: Leicester City
9: Portsmouth
10: Barnsley
11: Southend United
12: West Bromwich Albion's The Hawthorns (552ft)
13: Wembley, Old Trafford, Anfield, Villa Park, City Ground, Elland Road, St James's Park, Hillsborough
14: N Newcastle Utd, S Plymouth Argyle E Norwich City W Plymouth
15: Priestfield Stadium
16: Brighton's Amex Stadium
17: Buenos Aires, Argentina – home of Boca Juniors
18: Everton, against Accrington. Everton moved to Goodison Park in 1892
19: Man Utd, Liverpool, Arsenal, Tottenham, Newcastle
20: Carlisle United
21: Teddy Sheringham (Nottingham Forest/Tottenham)
22: Gareth Barry (653)
23: Ryan Giggs, Cesc Fabregas, Wayne Rooney, Frank Lampard
24: Petr Cech (202)
25: Robbie Fowler (163)
26: Middlesbrough, Crystal Palace, Leicester, Sunderland, West Brom, Norwich
27: Reading
28: Peter Crouch (brought on 158 times)
29: Duncan Ferguson, Patrick Vieira, Richard Dunne
30: West Brom