Thank you to all of those who participated in (and supported) today' club Chelmsford City Walking Football Mini Tournament.
A few specific thank you'.
Thanks to our referees , Trevor Ridley , Damian Reilly, and Spencer who did a great job at keeping play honest and fair.
Geoff Stockley and John Green also did us proud on keeping the scores and making sure folks were in the right places.
To everyone who pitched in to setup and clear away, well done – many hands make light work.
Thanks to Bob for a remarkably well-balanced team selection, and to Terry for producing the tournament playing schedule.
The club also did us proud on a bit of sausage and chips and an efficient bar.
It was great to see 50 club members playing, organising, or supporting – it says a lot about the character of our club.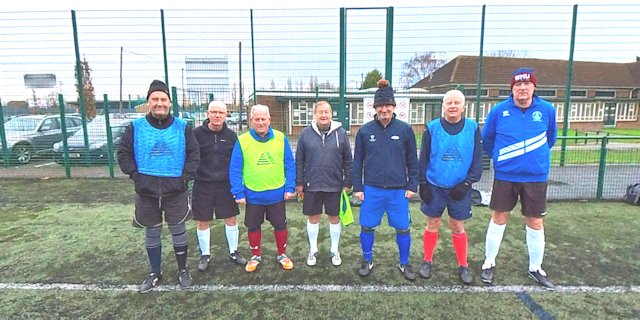 Then of course there is the actual football.
There was some excellent walking football played in what were 15 very close games.
Of course, there can only be one winner, and today that was 'City' who clocked up 11/15 points with 3 wins and 2 draws.
This was nearly all of the victorious 'City' team.
The real winner for the day (although try telling this to City) was camaraderie and walking football.
Picture of the day, however, is Bob doing some cooking and Spence telling Bob when to start by blowing his whistle
A great day, remember to put Tuesday 8th February in your diaries for the next club mini – tournament.
Chris
Chairman ( and sausage and chips deliverer ?)
CCWFC