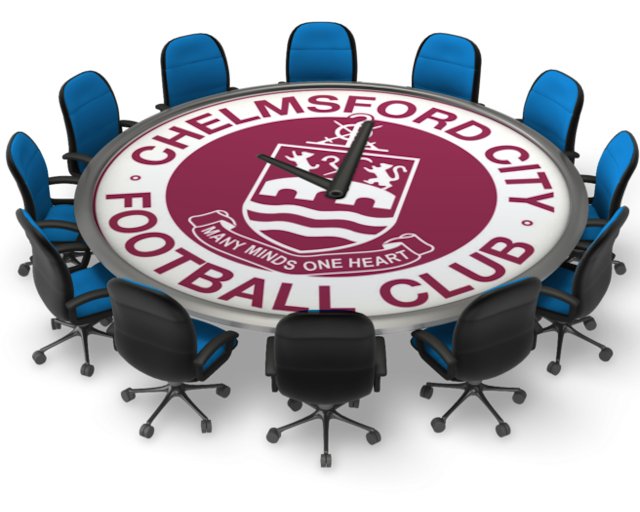 Our AGM was held at Chelmsford City Club House on Tuesday 21 September with the following report from the Chairman Chris Jullings
Firstly, thank you for taking the time to come to our AGM.
The past 18 months have been an unprecedented time.
Life has been difficult for everyone.
I would therefore like to start my report by thanking the committee for its leadership through such difficult circumstances.
I would particularly like to thank Peter O, as club secretary and our COVID officer for an outstanding job keeping us safe and keeping us playing football.
I would also like to thank you as members. You have been exemplary in your care for each other throughout.
You might imagine that COVID could have broken the club, instead we are stronger.
I have invited my committee colleagues to add their own comments where they want to during my report, and just to remind you that we have also included a 'questions' session later in the agenda.
My role as Chairman (and the role of the committee) is to
Ensure the welfare of club members
Provide access to as many o50' who want to play walking football as possible
Strike the balance between recreational walking football and our competitive ambition
Ensure that we are competitive on the pitch
Promote our players for representative honours
And perhaps most importantly …. ensure the longer-term sustainability of the club
So let me start with the welfare of our members
Ensure the welfare of club members
Our primary focus in the last 12 months has been our COVID plan – Peter has kept us safe
We have also done a good job on renewing first aid kits / training – Gerry has looked after our interests very well
We have developed a new, more productive relationship with Essex Council and are persuing a case for an Automatic Emergency Defribulator to be installed at the changing rooms.
Socials – House Party (Bob / Spence) / twice annual get togethers (the 29/10 is coming up)
We keep people informed and seek involvement – Newsflash / Flavour of the committee / and Bob' media stuff on the website / Facebook
We stay in in touch with members particularly if they have an injury or illness
CCFC 'season ticket for a fiver' – 25 takers
Jordan Banks appeal – £365; Prostate Cancer UK – raffle at social
I believe that we care about each other (and that we care about others)
Provide access to as many o50' as possible
I circulated our simple strategy document 'stepping into the future' at the start of the year – it sets out our 18months focus through to Sept 2022. We review progress at every committee meeting and I'm pleased to say that we are on track.
We set the target of increasing club membership to a 100 by 9/22
We currently have 77 (a growth of 15 since 1/3)
Radio ads / appearances – myself and Spence
Essex Chronicle – back page
Active Essex – promo video / TV / CCWFC listed / Lance
Leaflets & posters – David / John
Advertising board at CCFC and on the 3G pitch agreed, will go up over the next 4 -8 weeks
Great relationship with Steve Shore, so support from CCWFC (kit as an example)
We are energetically reaching into the community.
Strike the balance between recreational football and competitive ambition
The bedrock of the club is to have an open door to all o50' irrespective of age, fitness, health or capability – this will never change
We structure training to be within everyone' capability
We do, however, need to recognise the composition of our club. 41% (32) of us are o70' and 65% (50) of us are o65. Only 11 of us are in our 50' and 7 of these are 59.
We haven't fielded an o50' league team this year and maintaining competitiveness in depth
across our 4 o60' and o65' teams, has proven problematic
We have a challenge to address (and I will talk about that in a minute, when I talk about ensuring we remain competitive on the pitch)
I have no doubt that we will continue to provide access to all o50' who want to play walking football.
Ensure that we are competitive on the pitch
We resumed the EWFL competition in June for a shorter season – thank you to Peter / Terry (and others) in their EWFL roles to get this up and running again
We have been pleased to host the EWFL leagues at Chelmsford – thank you to John G / Ray R / Gerry / Geoff for helping on the days that Chelmsford have hosted
It is fair to say that this has been a more difficult season. Whilst on paper we look to have 39 folks registered for the o60' and 31 registered for the o65', in practice, we have a lot fewer players making themselves available
We have relatively strong (and stable) Clarets teams, but the Blues teams have been more problematic in terms of availability of players and settled sides
We are viewing this as a transition year. We will take a different approach to 'player commitment' to league and cup games in 2022. When you sign up in future, it will be a firm commitment to prioritise playing league / cup walking football.
We also have work in progress (through our working group) to address the younger feed to the club (o50' & younger 60'). This will start in November with the introduction of a weekly, evening o50 training session and a supporting marketing campaign.
We also have a significant investment in our coaching programme – this has made good progress, but will now move to the next stage in terms of consistent application
Finally, a word about playing administration, whether for training sessions or our league games – doesn't happen by itself.
I would like to thank
Peter & Terry for the disciplined approach to organising & structuring attendance at training.
Gary for working hard behind the scenes making sure that training equipment & kit is properly managed. Thanks to Gary for also organising a number of friendlies and the guest teams and medals / trophy for the o70' tournament. Thanks to Tony and Ray for the team management,
I would also like to thank Peter and Gary for managing the o60' and o65' Clarets and more recently to Ray B and Steve Shoesmith for stepping up to manage the Blues.
Promote our players for representative opportunity
We have a history of nominating players for EWFL and regional trials.
We are proud that we now have both the England o60' and 065' captains playing at the club.
We are committed to helping players progress if they have the capability and want to.
Ensuring the longer-term sustainability of the club
I shared the age profile of our club, we have to pay attention to creating balance.
We have a challenge to attract more people in their 50' early o60' age group.
I have no doubts that the action we are taking will keep the club strong for many years to come, but we do need to take positive action over the next 6 -12 months.
So, in summary –
The fabric of the club is very strong
The culture of the club is one of inclusiveness and caring about each other
Our challenge for the next 12 months is to grow our o50' and younger 60' membership whilst staying accessible to all o50'
We are determined to remain an open door for all o50' as well as develop our competitiveness on the pitch.
I am very proud to be Chairman of the club.