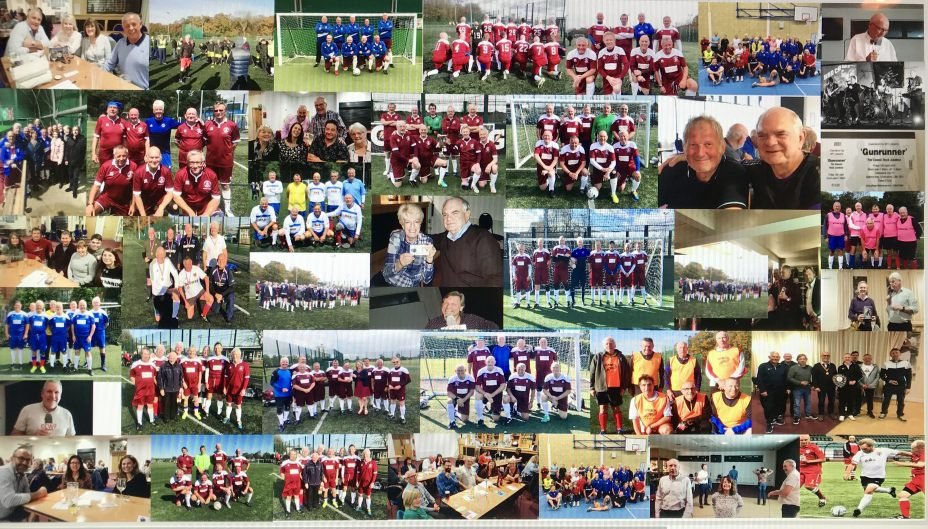 Footie chums,
I hope you are well.
We are heading for the half way point on lock down 2.
Hopefully we will be back to doing what we all love very soon.
I will be dropping a note out in the week re House Party 6 – the Xmas Extravaganza , but I thought a bit of mid-lockdown cheer might not go amiss.
Three things –
a photo montage to remind us who we have been and who we will be again!;
a reprise of some of the old 'you gotta laugh' stories from past newsletters; and
CCWFC photo montage
I thought this would be a nice reminder of who we are. It's a great mix of having fun , camaraderie and competitive success.
We might be on an enforced break …… but like Arnie , we'll be back !!
You gotta laugh – reprise
Here are a few of my favourite footie stories (mostly true ? ) from pevious newsletters.
It is just before Scotland v Brazil at the 1998 Group A World Cup Group game.
Ronaldo goes into the Brazilian changing room to find all his teammates looking a bit glum. "What's up?" he asks. "Well, we're having trouble getting motivated for this game. We know it's important but it's only Scotland. They're not that good and we can't be bothered".
Ronaldo looks at them and says, "Well, I reckon I can beat these by myself, you lads go down the pub."
So Ronaldo goes out to play Scotland by himself and the rest of the Brazilian team go off for a few jars.
After a few pints they wonder how the game is going, so they get the landlord to put the teletext on. A big cheer goes up as the screen reads "Brazil 1 – Scotland 0 (Ronaldo 10 minutes)". He is beating Scotland all by himself!
Anyway, a few more pints later and the game is almost forgotten until someone remembers "It must be full time now, let's see how he got on". They put the teletext on. " result from the stadium "Brazil 1 (Ronaldo 10 minutes) – Scotland 1 (Durie 89 minutes)".
They can't believe it; he has got a draw against Scotland all by himself!! They rush back to the Stadium to congratulate him. They find him in the dressing room, still in his gear, sat with his head in his hands. He refuses to look at them. "I've let you down, I've let you down." "Don't be daft, you got a draw against Scotland, all by yourself. And they only scored at the very, very end!" "no, no, I've let you down… I got sent off after 12 minutes.

Of course given Scotland' recent qualification for next year' Euro' our annual jibbing of our Scottish cousins has bitten the dust. Well done Scotland!!
++++++++++++++++++++++++++++++++++++++++++++++
Here are a few old anecdotes that made me laugh.
Martin O'Neill had a really bad run of form for Nottingham Forest so not surprisingly Brian Clough dropped him. After he had been dropped for a couple of weeks, O'Neill had had enough. He marched into Clough's office and asked him why he had been dropped into the second team. Clough looked him in the eye and said ' because young man you are far too good for the third team'.
++++++++++++++++++++++++++++++++++++++++++++++
In the dressing room, before the kick-off of the big Liverpool v Manchester United game, Liverpool's manager Bill Shankly went through the Manchester United team sheet and started to ridicule the opposing line-up. 'Alex Stepney' he began, 'a flapper of a keeper, hands like a Teflon frying pan – non-stick. 'Right back, Shay Brennan, slow on the turn, give him a roasting'. 'Left back is Tony Dunne, even slower than Brennan. He goes on an overlap at twenty past three and doesn't come back until a quarter to four'
The Liverpool players were growing in confidence as Bill was ridiculing the United players 'Paddy Crerand, now he's a deceptive little sod. Slower than he looks' Shankly carried on demolishing the team, 'David Sadler, he wouldn't even get a place in our reserves'
Shankly had finished and was turning to the dressing room door when Emlyn Hughes piped up. 'That's all very well boss but you haven't said anything about Best, Charlton and Law. Shankly, absolutely furious, turned to his captain and said' are you trying to tell me that you can't beat a team that's only got three players in it'!
Spurs were having a training session one day and someone kicked the ball over the fence. Paul Gascoigne said 'don't worry I'll get it' and completely vanished for the rest of the day, The next day at training (approximately 24 hours later) Gascoigne jumps back over the fence with the ball completely straight faced saying 'got it'! Sounds like Gazza!
+++++++++++++++++++++++++++++++++++++++++++
Ex-soccer star Leroy Rosenior was appointed boss of a struggling club – then sacked after ten minutes. The former West Ham and Fulham striker broke the record for English football's shortest managerial reign after being introduced with the usual fanfare by Torquay United.
Sports journalists were summoned to a press conference which finished at 3.30pm. Then – at 3.40pm – Leroy was told by the chairman that the Devon club had been sold to a business consortium. That meant he was out ten minutes after the press conference finished announcing his arrival! Leroy smashed the previous record for the shortest time as manager – Dave [Harry] Bassett's 72 hours at Crystal Palace in 1984.
He joked that they obviously thought that he had done a fantastic job after ten minutes and let him go.
++++++++++++++++++++++++++++++++++++++++++++
You might not know but Chelsea fans have been taking celery to the Bridge for decades —most likely in order to pay homage to their chant.
However, according to a club statement from 2007, the Blues have reminded fans that bringing celery to the ground is in fact outlawed and that any fan caught bringing the "dangerous" vegetable to the ground could face a lifetime ban from Stamford Bridge.
The statement reads 'the throwing of anything at a football match, including celery, is a criminal offence for which you can be arrested and end up with a criminal record. In future, if anyone is found attempting to bring celery into Stamford Bridge, they could be refused entry, and anyone caught throwing celery will face a ban.'
The statement then goes on to direct fans to a hotline they could call to report others seen carrying celery, promising that "all calls will be treated in confidence."!!
++++++++++++++++++++++++++++++++++++++++++++
A truly embarrassing moment for HFS Loans League team Congleton occurred in 1993 when holding a minute's silence before the match to mourn the death of the club's oldest fan who had 'passed away' during the week.
You guessed it, during the minutes silence at the home game on the Saturday he walked into the ground, removed his hat and quietly said to the person next to him, who died. The predictable response was, you did!
The Congleton PR team are polishing up their act.
Footie Quiz
Quesions
Which player scored the fastest hat-trick in the Premier League?
Which player, with 653 games, has made the most Premier League appearances?
Three players share the record for most Premier League red cards (8). Who are they?
With 260 goals, who is the Premier League's all-time top scorer?
When was the inaugural Premier League season?
Which team won the first Premier League title?
With 202 clean sheets, which goalkeeper has the best record in the Premier League?
How many clubs competed in the inaugural Premier League season?
Which three players shared the Premier League Golden Boot in 2018-19?
The fastest goal scored in Premier League history came in 7.69 seconds. Who scored it?
The answers are at the end of the e mail.
Well folks that's it for the moment.
The CCWFC good times will be back !!
Best wishes
Chris
CCWFC Social Secretary
Answers
Sadio Mane (2 minutes 56 seconds for Southampton vs Aston Villa in 2015)
Gareth Barry
Patrick Vieira, Richard Dunne and Duncan Ferguson
Alan Shearer
1992-93
Petr Cech
22
Pierre-Emerick Aubameyang, Mohamed Salah and Sadio Mane
Shane Long (for Southampton vs Watford in 2018-19)